What are the best moisturisers for men? And why should I use them? A moisturiser should be a core product in your daily skincare routine. Any good skincare routine involves a cleansing element, to remove the dirt, sebum, and environmental impurities from your skin. Inevitably, however, cleansing removes some of the moisture and nutrients necessary to maintaining optimal skin health. A good moisturiser steps in at this point to firm, hydrate, and nourish skin which has been freshly cleansed, offering crucial help in the fight against ageing, and making your skin much less vulnerable to outbreaks.
This basic application of moisturiser applies to everyone, but if you have a dry skin type (read more about skin types here if you're confused), moisturising is an even more crucial element to your routine. People with a Dry Skin Type naturally produce less sebum, the natural oil released by your skin to regulate moisture levels. This becomes especially pronounced in the colder months, and in those with sensitive dry skin, it can become extremely aggravated as a reaction to certain chemicals. In these cases, a moisturiser becomes an indispensable tool, replenishing hydration which is otherwise impossible to replace. This ensures your skin not only looks better, but feels much more comfortable.
In this article, we take you through the Top 12 Best Moisturisers for Men.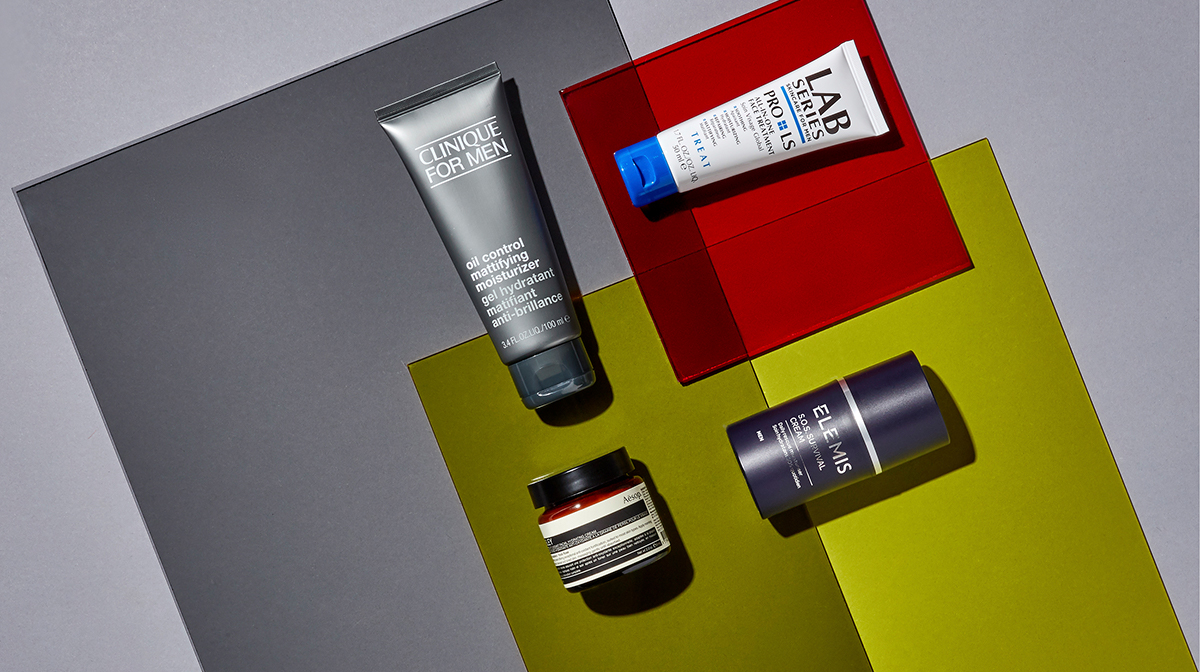 The Top 12 Best Moisturisers for Men
Choosing the right Men's Moisturiser for you
Before we jump into our rundown of the best moisturisers for men, we've compiled the most important things to consider when choosing your moisturiser. We strongly recommend putting some thought into each of the following before committing to a product (trust us, your skin will thank you).
Oil Control/Matte Finish – you still benefit from using moisturiser if you have oily skin, but adding additional hydration on top of the sebum produced by your skin can cause excessive oil to build up. Some moisturisers will be formulated without oils, and will include ingredients like silica which absorbs oil, in order to combat this. These moisturisers will typically have a matte or shine-free finish.
Emollients – if you have combination or dry skin, this is due to the fact that sometimes, or at all times, your skin is incapable of producing enough natural oils to keep your skin healthy and soft. This can cause the barrier function of the skin to break down and breakouts, irritation, and even sores can  come about as a result. Nourishing and hydrating the skin, while reinforcing the its barrier function, emollients are the best solution for this. They typically occur in natural forms, such as Shea Butter or Coconut Oil.
Antioxidants – commonly found in fruit and vegetables, antioxidants are miracle ingredients that combat oxidative stress – one of the key causes of ageing in the skin. If you're concerned that you're beginning to show signs of ageing, picking an antioxidant packed moisturiser is a must.
Fragrance – scented products are so common that we hardly even think about it unless it's a smell we particularly like or dislike. If you have sensitive skin, however, you should absolutely pay attention to fragrance. Scents can be one of the key trigger ingredients for flareups of skin disorders and irritation, so going with a scent-free moisturiser may be advisable if you're prone to either.
SPF – it's increasingly common for moisturisers to include SPF, which makes perfect sense. In an ideal world, you'd be using both every day. If you're commonly exposed to sunlight, direct or indirect, and if you're concerned about skin-ageing, it makes sense to pick a moisturiser broad spectrum sun protection built in. If you want to discover more,

read our post on the top SPF moisturisers for men.

Absorption speed – those with naturally oily skin will want to pick a moisturiser that is rapid-absorbing. These will typically have Water as one of the main ingredients. On the other hand, those with dry skin will benefit most from a moisturiser with longer lived effects. These will usually have a greater quantity of oils or other emollients in the ingredient list.
Buy now

with Mankind

Recommended for: Anyone with oily skin.

Why we love it: Non-greasy, mattifying finish.

For those with an oily skin type, moisturising can aggravate the problem of excessive grease on the surface of the skin. If this applies to you, this Oil-Control Moisturiser from Clinique for Men is the perfect solution. Designed to nourish and condition the skin without feeling heavy or uncomfortable, we can't recommend this product enough for those with oily or combination skin.

Buy now with free delivery