With summer now in full swing and the UK basking in the glory of some warmer weather, it's time to crack out that summer body you've been hiding away under those jumpers and shirts… That was until we realised that the body we've been hiding all this time has been slightly neglected, and the gym has been swapped for comfort foods and the UEFA Champions League in the pub for a few months now. How can we make some speedy improvements on our once toned physique though? You don't have to dive in feet first if you're just looking to tone up a little, and a few simple swaps in your diet can lay the foundations for your journey back in to fitness.
Simple Breakfast Swaps
Breakfast is praised as the most important meal of the day, and whilst it can be tempting to go for that cheese and ham toastie, you might find that too many of these bad boys can have a pretty detrimental effect on your physique. Not only that but a grease, calorie, fat filled breakfast can make you prone to feeling sluggish later on in the day.
We recommend:
Switch up your breakfast and opt for some delicious overnight oats. The best part of overnight oats is that you prepare them the evening more, which means you have more spare time in the morning. Simply pour half a cup of plain oats in to a tub (or jar, if you want to look dreadfully hipster) and mix in about a cup full of milk. You could go for semi-skimmed, but nut based milk is our weapon of choice. Not only do many contain fewer calories than cow's milk, but they also add a nutty sweetness to the flavour. If you're looking for an added sweetness and texture, then try adding a handful of chopped dates to the mix too. Overnight they soften up a dream and make you feel like you're having some added indulgence as the result makes you feel as though you're eating chocolate! Failing that, you can always just try out some healthy protein pancakes.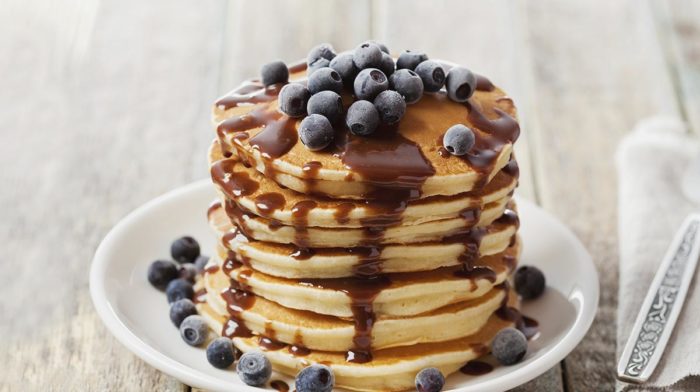 February is jam packed full of fancy occasions isn't it? From Valentines, to The Oscars and even Pancake Day thrown in there for good measure.
Healthy Lunch Ideas
As the days become warmer, nobody wants to be huddled over some red hot soup or a piping hot burger. When the sun comes out you will crave the fresh, crisp flavours that come with BBQ weather. When you're stuck at your desk in an office though, it can be hard to recreate the summer vibes within your packed lunch; so what are your other options?
We recommend:
A cold soup may sound like the least satisfying thing on the planet, but if you've ever tasted the tang of a fresh Gazpacho then you'll realise straight away why this comes in as a summer swap recommendation. With a rich and flavoursome tomato base, this child soup is perfect for a lunch on the go which satisfies those cravings. If you're not in to the idea of a liquid lunch, then why not whip up a lovely fresh burrito bowl. You can enjoy this one hot or cold. Just layer up all the standard contents you'd usually find in a burrito wrap, but in a bowl. Start with the rice as the base and layer up grilled chicken, peppers, onions etc and top with some fresh avocado for a creamy finish. Delicious and definitely much better for the waistline than fish and chips!
Evening Meal Options
Summer months do not lend themselves to having the oven on for hours or standing over a frying pan on the hob. You want to be outdoors enjoying the fresh air once your stint in the office has finished! After eating meals which may have been served cold all day, you will want to switch things up a little more and add some more warm veg and freshly cooked meat to your day.
We Recommend:
One word – BBQ! Even if the sun has started to set, the temperature should still be warm enough for grilling up whatever you fancy on your barbecue outside. Not only is the BBQ a great reason to enjoy the outdoor world, but grilling food on it is already a healthy swap from frying your meal in oil in a frying pan. Layer up vegetables on skewers and get your protein fix with lean meats to really make the most of these summer days, without feeling too guilty about it. Just don't go too heavy on the sugar-filled condiments and pile your plates high with the freshly grilled veg.
Just cutting down on a few treats here and there can certainly make a mark on helping you to trim down this summer. If you're still feeling the itch to start a brand new fitness regime though, keep an eye on the Mankind blog next month as we celebrate all things sports and fitness in celebration of the Olympics 2016!