In this guest post from Holden McIntosh from House 99, Toby and Andrew get a tidy up and we teach you how to get the look yourself using David Beckham's own Male Grooming Brand. 
You can also learn more about the House 99 Brand with our introduction to the brand, and our introduction to the range.
House 99 Circle of Groom: Episode 1
Alright lads? The Grooming Series adventure is kicking off, led by the brilliant 'Sick Barber' Fabio Marques of Figaro's in Lisbon (check out Fabio's instagram). Fabio's worked on some of the best barnets in the world, including your man David Beckham's hair, so it's safe to say he knows a thing or two about men's grooming. In each episode, he meets a couple of likely lads looking for a grooming transformation, including beard, hair, face & body. This week, Fabio works on a Berlin-bound bloke named Toby, about to make the move to Berlin, streamlining his long lengths before working on sharpening up Andrew's pirate-esque untamed beard.
A transformative hair or beard cut is a powerful tool. Take Beck's hair, for example, a few months growing it out to shoulder-length, chopping it into a Mohican, styling it into a sleek pompadour, threading it into cornrows – the man does love to experiment with his look, don't he? – and it's headlines for days.
Now, there's all manner of reasons why you might want a new look. You might want to impress your partner, (or show the exes what they're missing). You might be moving jobs or cities and want a fresh look for a fresh start like our Toby before his move to Berlin. P'raps you might just want to shake it up. Whatever it is, if you're feeling bold, fill your boots – the power of a haircut to create a new man is a beautiful thing indeed.
TOBY: FROM CURTAINS TO SLICK RICK
If, like Toby, you've let your hair grow into the realms of the wild for a few years, you might find yourself with a long, neglected do that, like your partner, could benefit from a bit of TLC. Pre-cut, Toby's hair length was neither here nor there, and really hid that precious mug of his behind a curtain of hair. A quick consultation with Fabio got him kitted out with a powerful, peaked Pompadour – a new spin on an old classic – and abracadabra, a new Toby was born.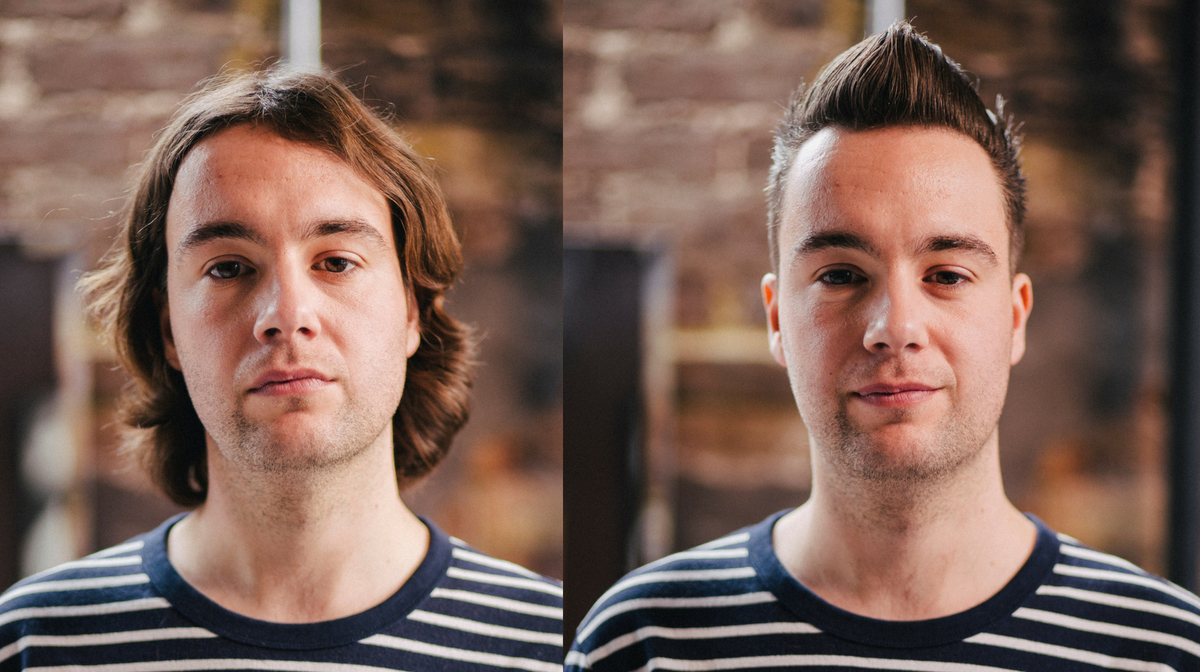 The modern Pompadour has an old-school & rock 'n' roll influence. It lengthens the face (perfect for those with rounder mugs) and packs a serious punch.
For a directional look, ask your barber to exaggerate the haircut's components for a strong starting point from which to style at home. This means, a fade buzz, around a #1-#1/2 clipper setting on the back and sides and serious volume on top – basically, the hair on top of the head should be long enough to lay flat when combed back against itself. For most of you, that'll be about 4 inches.
Get the look
Step 1: Start with clean hair, of course. Now, take a blow dryer, set it to high heat and use a round brush to start at the back of the head, rolling the brush back while at the same time as pushing the hair forward and up, section by section, blow drying the brushed hair as you go.
Step 2: Keep moving up the hairline and once you're at the front, give it some extra love and focus on creating volume. You want your hair to be pointing up at about 60-degrees.
Step 3: Then, take a nice dollop of the Smooth Back Shaping Pomade and slick back the sides of your hair.