During the winter, the majority of people will become sick by either catching a cold, the flu or something else. As the weather becomes colder, we spend more time indoors with others, making it easier to pick up bugs. However, your immune system plays a big part in how sick you get and it can be altered fairly simply. One of the quickest ways to boost your immune system is to alter your diet, so we've put together our top winter meals to maintain your health.
Vegetable Soup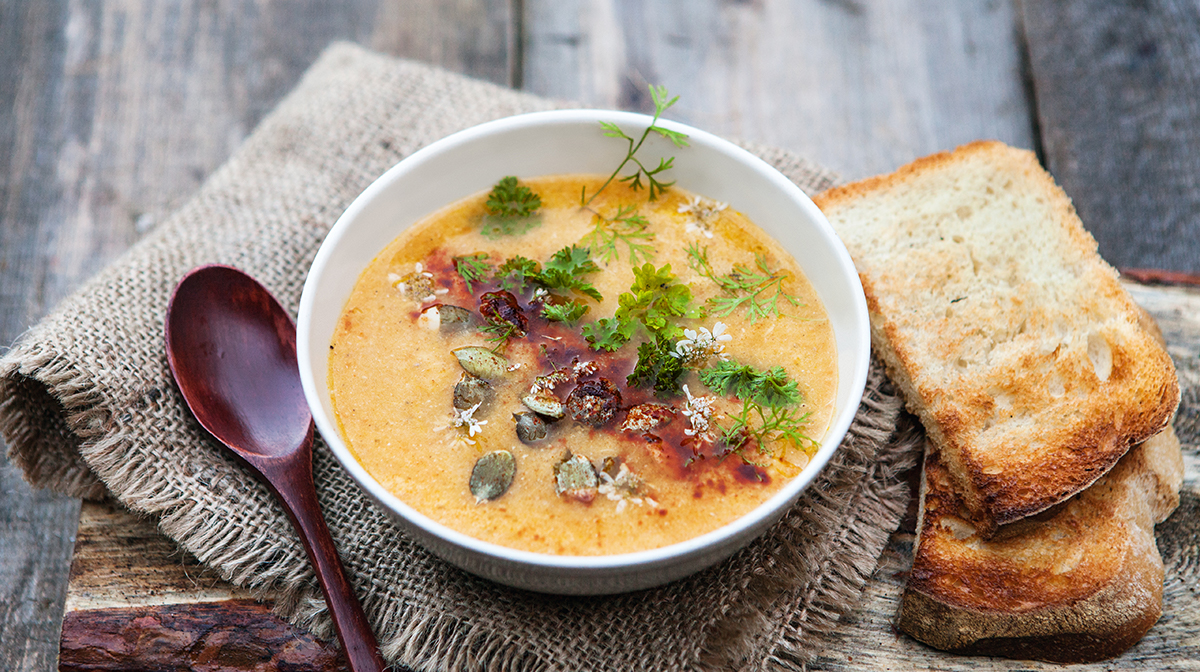 Even though soup is great when you're ill, it's also good at preventing sickness. Not only that, there's something nostalgic about eating a bowl of hot soup after spending a day outside in the cold and rain. This healthy yet delicious vegetable blend of celeriac, potato and roast garlic is packed with antioxidants, vitamins and other nutrients to keep you well.
Ingredients:
1kg Peeled Celeriac
2tbsp Olive Oil
3tsp Ground Fennel
1 ½ tsp Ground Coriander
1 Peeled Garlic
300g Peeled, Diced Desiree Potato
1 Chopped Onion
1tbsp Thyme Leaves
500ml Vegetable Stock
125ml Milk
Method:
Start by preheating the oven to 200˚C. Slice up 500g celeriac and toss with 1tbsp olive oil, 1tsp fennel and ½ tsp coriander, then season with salt and pepper. Next, chop off the top of the garlic, drizzle with olive oil and wrap in foil. Place them onto a tray and roast in the oven for 15 minutes. Turn the celeriac and roast for another 10-15 minutes until golden. Whilst roasting, add the remainder of diced celeriac, potato, onion, thyme and a pinch of salt to a saucepan on medium heat with 1tbsp olive oil. Cook for 6-7 minutes, add in the fennel and coriander followed by stock, then bring to the boil.
Once brought to the boil, reduce the heat and cover, simmering for 15-17 minutes. Squeeze the garlic from the skin into the soup, add in the milk and use a hand blender to make smooth. Finally, season to taste, add the roasted celeriac and serve.
Chicken Stew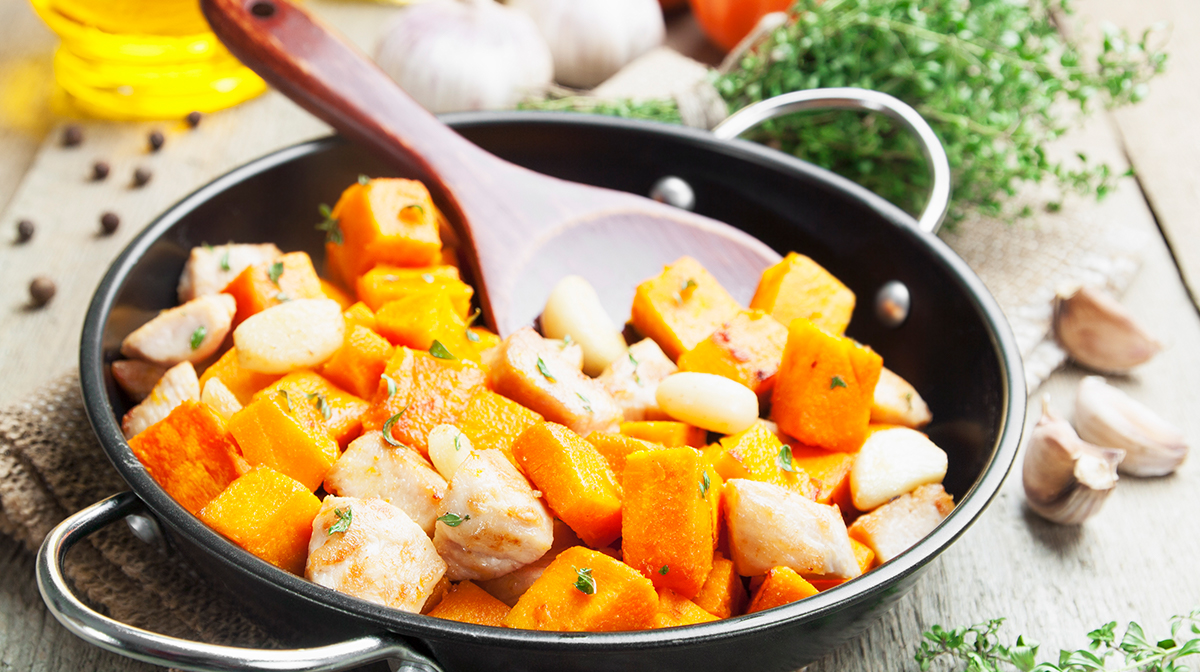 A hearty stew is the perfect filling meal to end a long day. Satisfying both your hunger and your taste buds, this simple recipe is incredibly easy to make and can be prepared days in advance. This way you can heat it up whenever you like effortlessly.
Ingredients:
5tsp Olive Oil
450g Diced Chicken Strips
1 Chopped Onion
4 Peeled, Chopped Parsnips
2 Peeled, Chopped Carrots
2tsp Chopped Rosemary
½ tsp Salt
¼ tsp Ground Pepper
4 cups Chicken Broth
2 Peeled, Chopped Green Apples
2tsp Cider Vinegar
Method:
Simply heat 2tsp oil in a cast iron cooking pot over medium heat. Add in the chicken and stir occasionally until cooked before transferring it to a plate. Put the remainder of the oil into the pot with onion, parsnips, carrots, rosemary, salt and pepper and stir for 3-5 minutes. Next, add the broth and apples, bring to a simmer then leave to cook for 8-10 minutes.  Finally, stir in the chicken and vinegar before serving.
Warm Lentil Salad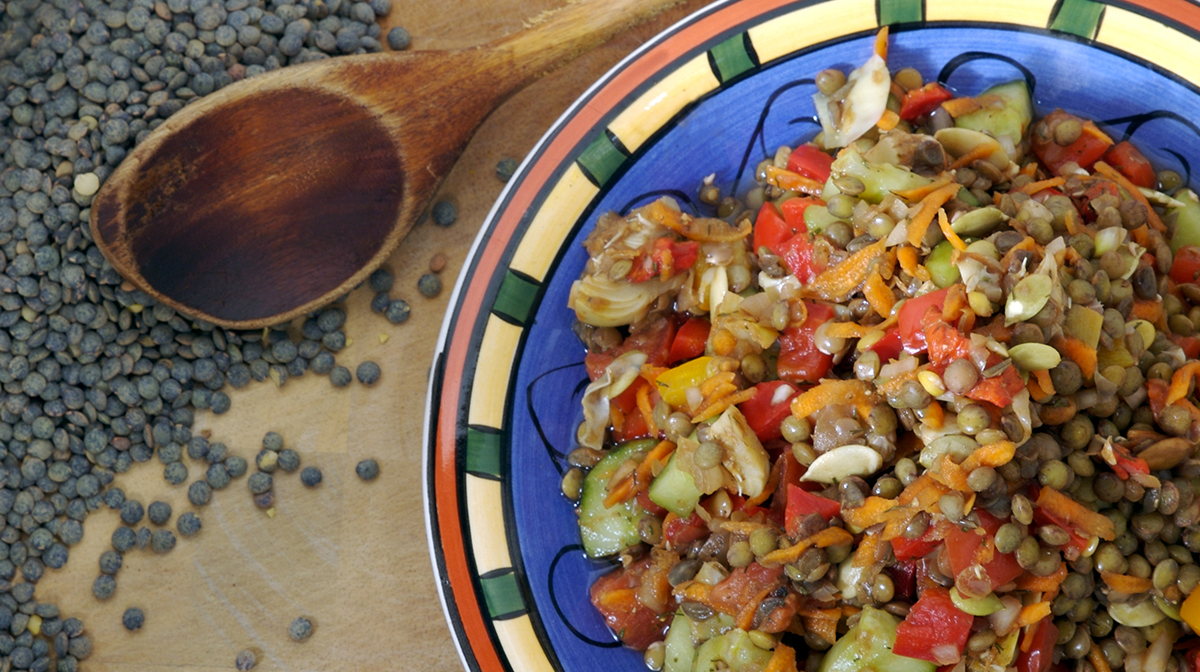 If you're not particularly hungry and a filling, hearty meal is off the cards, this warm lentil salad will fill the gap. Light yet tasty, it's super quick to prepare, great for when you don't have much time to make something.
Ingredients:
4tbsp Olive Oil
2tbsp Red-wine Vinegar
1tbsp Dijon Mustard
½ tsp Salt
½ tsp Ground Pepper
3 Turkey Sausages
2 cups Lentils
3 cloves Minced Garlic
1 bulb Diced Fennel
1 Diced Green Apple
2 stalks Diced Celery
6 cups Rocket
Method:
Start by whisking together 3tbsp oil with the vinegar, mustard, salt and pepper. Next, add the remaining oil into a skillet with the sausage on medium-high heat. Break up the meat and heat for around 5 minutes until cooked, then add the garlic and lentils. Cook for a further 2 minutes, stir in 5tbsp of dressing and remove from the heat. Finally, combine with the fennel, apple and celery and toss with the remaining dressing.
Stir Fried Noodles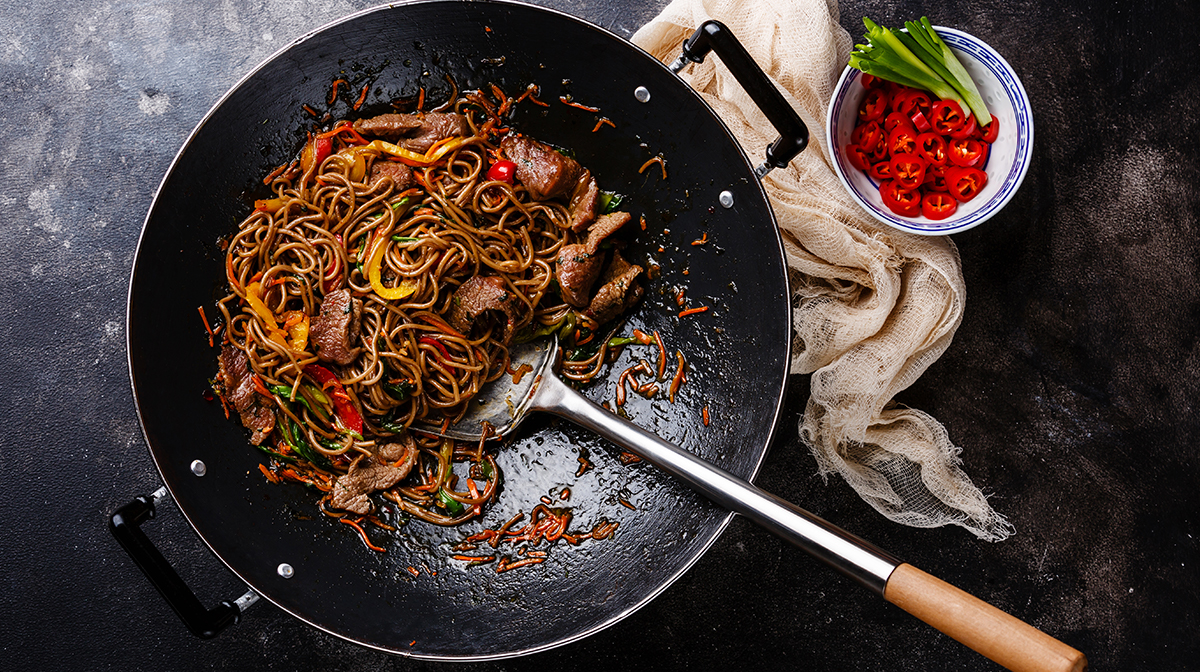 Flavoursome noodle dishes are great for boosting the immune system and making your own is cheaper than ordering takeaway. This stir fried noodle dish can be made with chicken or with tofu for a vegetarian alternative, making it incredibly versatile.
Ingredients:
226g Noodles
2tbsp Canola Oil
1tsp Loose Green Tea Leaves
2tsp Minced Ginger
2 cloves Minced Garlic
226g Chicken Strips or Tofu
2 sliced Bell Peppers
4 Green Onions Chopped
2tbsp Soy Sauce
2tbsp Rice Vinegar
1tsp Toasted Sesame Oil
¼ tsp Ground Pepper
Method:
Begin by cooking the noodles in accordance with the instructions, or make your own from scratch. Once they're prepared and placed to one side, heat a wok over medium heat, add the oil, tea leaves, ginger and garlic and stir for 30 seconds. Next add in either your chicken or tofu and stir for 2 minutes. Mix in the bell peppers for 1-2 minutes before stirring in the noodles, green onions, soy sauce and vinegar. After 2 minutes, stir in the sesame oil and pepper before serving hot.
Stuffed Peppers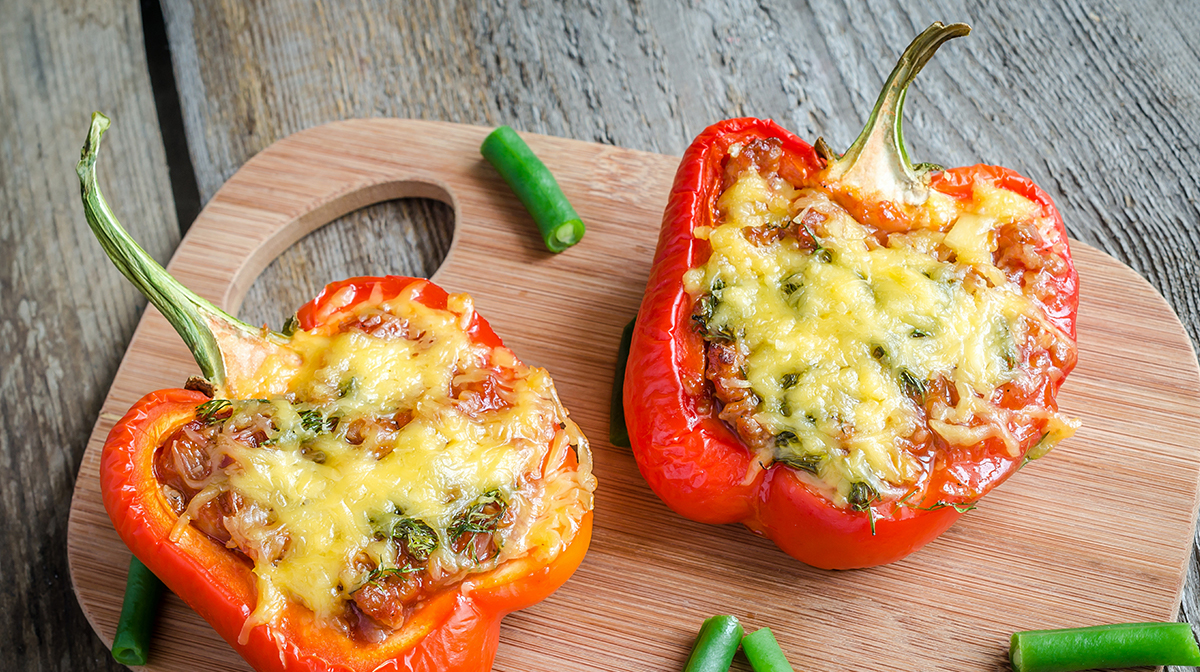 The final recipe in our winter meals recommendations is this stuffed peppers dish. We recommend this as it's simple to make and can be made as a side to complement other foods such as cous cous, rice or even burgers.
Ingredients:
5 Bell Peppers
1 can Black Beans
1 can Sweetcorn
½ cup Diced Yellow Onion
1 Sweet Potato
1 ¼ cups Tomato Salsa
2tsp Chili Powder
1tsp Cumin
1tsp Dried Oregano
1 cup Grated Cheese
¼ cup Chopped Coriander
Method:
Firstly, preheat the oven to 180˚C. Slice the peppers in half length-ways and place into a pan ready to stuff. Pierce the sweet potato several times before microwaving on high for 4 minutes, allow to cool and cut into small cubes. Combine the potato with black beans, onion, corn, tomato salsa, cumin and oregano. Divide the mixture evenly into the pepper halves, cover with foil and bake for 40 minutes. After baking, sprinkle the peppers with cheese, recover and bake for a further 5 minutes. Finally, sprinkle with coriander and serve.
Have you tried any of our immune system boosting winter meals? Let us know on Twitter.