It's the Holy Grail of grooming, an end to wrinkles and a halt to the ageing process. Were not quite there yet but there's plenty you can do to hold back the years until that miracle cure finally comes along. Check out our 16 tips on how to stay young looking!
£95.00 Buy now

with Mankind

Our skin's natural renewal process slows down as we get older, especially once we pass the age of 30. Accelerate the process (and bring fresh, plump skin cells to the surface) with the help of products containing Alpha Hydroxy Acids – gentle exfoliants which leave the skin looking younger. Try Perricone MD AHA Face Firming Activator.

Buy now with free delivery

£7.95 Buy now

with Mankind

If your hair's thinning, ask your stylist to add texture with the help of 'chip cutting' and 'razor cutting' and use a product like Nanogen Thickening Shampoo to add volume.

Buy now with free delivery

Ditch the Sugar

Along with the sun, sugar is the skin's number one enemy because it bonds to proteins in collagen causing it to mesh and become stiff and inflexible, which in turn leads to wrinkling. You have been warned.

£8.99 Buy now

with Mankind

Nothing ages you like the appearance ear hair and nose hair so keep it in check on a weekly basis with a WAHL Wet N Dry Trimmer.

Buy now with free delivery

£36.00 Buy now

with Mankind

Products containing light-reflecting technology are great for knocking off a few years. They work by reflecting light off the skin, giving it a smoother, even and more youthful appearance, and by diminishing shadows and fine lines. Try Anthony Logistics Continuous Moisture Eye Cream which has special optical light diffusers as part of its formula.

Buy now with free delivery

Cut Your Cholesterol

When nurses at Imperial College School of Medicine were asked to estimate the age of 318 men for a study, they came up with a startling discovery – the men who looked older than they were also had higher levels of cholesterol. Reduce yours by cutting back on red meat and dairy produce.

£17.00 Buy now

with Mankind

Scarily, a third of us will start to have our first grey hairs by the time we're 25 and there's no more obvious sign of ageing. If you want to disguise the greys try a product like Wella SP Men Gradual Tone which is an easy to use and effective way of knocking a few years off your age. You don't have to apply it to your whole head for a more subtle look, just use a fine comb to subtly blend colour into areas of the hair that are greying.

Buy now with free delivery

£29.95 Buy now

with Mankind

Teeth have always been strong indicator of health and youth and having healthy white ones can have an instant anti-ageing effect. Keep yours sparkling with the help of iWhite Instant Professional Teeth Whitening Kit. Since teeth also act as scaffolding for your face it's worth holding on to them for as long as possible. As soon as they start to fall out you begin to lose jawbone too and when the bones of your face start to shrink you face starts to sag.

Buy now with free delivery

Scoff on an Orange

Vitamin C is a potent antioxidant and is crucial for fighting the toxic free radicals linked with the ageing process. It's also important for maintaining skin's elasticity. Spuds, cabbage and peppers are other good sources.

Sleep on your Back

This will help prevent the formation of vertical 'sleep lines' wrinkles that can, over time, become permanent. Using silk pillowcases is thought to help too since it prevents the skin from being 'squished' on the pillow every night. They might improve your Lothario status too.

£33.00 Buy now

with Mankind

With 80% of the lines and wrinkles caused by UV rays adequate sun protection is essential if you want to avoid looking like something that's been dug up from a peat bog. And it's not just sunbathing that's to blame – everyday low-level exposure takes its toll too, so use a daily moisturiser with a built in sunscreen like Anthony Facial Moisturiser SPF 30.

Buy now with free delivery

£18.00 Buy now

with Mankind

If you're more old fogey that old master, camouflage broken capillaries, age spots and dark circles with a concealer like Menaji Camouflage Concealer. To apply, look down into a mirror so you can see where shadows are and look up to blend it in.

Buy now with free delivery

Stop Smoking

Not only does smoking starve your skin of essential nutrients it also increases the body's levels of matrix metalloproteinase1, an enzyme which actively attacks collagen – the stuff that acts as scaffolding for your skin.

£54.50 Buy now

with Mankind

No, not with a Stanley knife and a bottle of brandy for anaesthetic – try an anti-ageing product like Peter Thomas Roth Mega Rich Intensive Anti-Aging Cellular Creme instead which will help lift, tone and firm the skin, making it look more youthful.

Buy now with free delivery

£47.00 Buy now

with Mankind

According to some research the optimum time for the body to repair itself is between the hours of 11pm and 3am and that goes for skin too. So before you go to bed/pass out at night think about applying an anti-ageing night cream like Ole Henriksen Invigorating Night Creme and grab some real beauty sleep.

Buy now with free delivery

Have More Sex

Yes, according to a study by the Royal Edinburgh Hospital men who have a good sex life tend to look between four and seven years younger than those who don't. The reason is that it makes you feel more content, less stressed and enables you to sleep better and all three things are reflected in your face. The study also showed that exercise has a similar effect, even if it isn't quite as much fun.
Don't forget to check out our Mankind guide to anti-ageing for some extra hints and tips!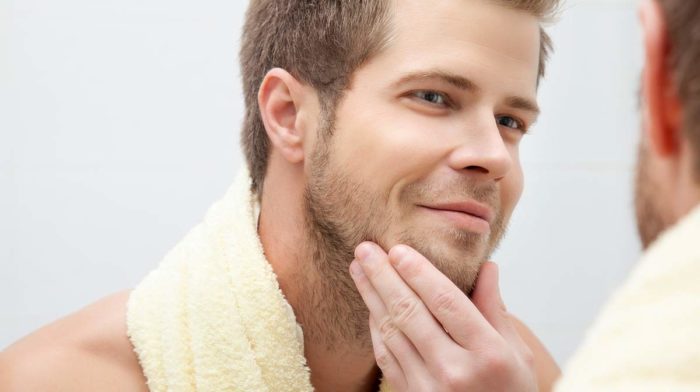 Looking to introduce anti-ageing into your skincare routine but unsure of how to? Look no further than the Mankind guide to anti-ageing with everything you need to know to deal with skin ageing issues.