Edward Lemont, known as The Discerning Man, is a UK based lifestyle and grooming blogger. With an aim to share his passions, Ed set up his blog back in 2015 and has since been fully integrated within the industry.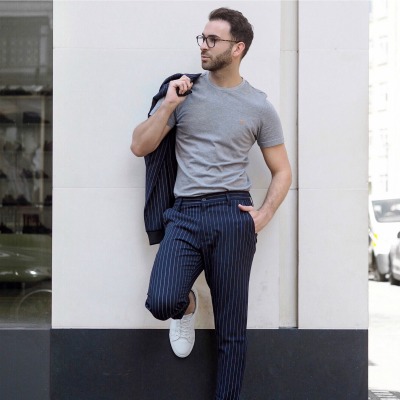 When reading through Ed's blog, you'll be sure to find posts on skincare, style and food. If you're ever in London, it's worth checking out some of his restaurant recommendations – they won't disappoint.
We recently caught up with Ed to discuss the male grooming industry and his skincare staples. Ed has a great piece of advice regarding skincare that any guy should follow, but we'll let you read below and find that out for yourself. A little hint – it involves the sun!
Question:

Let's start by telling us a bit more about you…

Answer:

I'm a 32 year old men's lifestyle blogger, living in South West London. I started The Discerning Man back in 2015 as a platform to share my passion for grooming and fashion.

Question:

The male grooming industry is growing incredibly quick. What do you think is causing this?

Answer:

I think men have more of an interest in looking well-groomed, down to the the peers we look up to and other guys social media. I think the likes of David Beckham and David Gandy have been a huge influence on this – ​It's the David effect!

Question:

What men do you look up to within the grooming industry? And why?

Answer:

Tom Ford is so in tune with men's needs and desires. He creates eyebrow gel to keep our brows in shape and fragrances to transport us to the most exotic of places – this is a guy who knows men and has created an empire around this knowledge.

Question:

What do you think men should be more aware of when it comes to grooming?

Answer:

SPF, SPF, SPF – Not just for the sunshine, guys! Powerful rays can damage skin any time of the year. I'm not saying go out and buy a factor 50 sun lotion and slap it on daily, just consider a moisturiser with an SPF to protect your skin against those harmful rays.​

Question:

From what you've seen in the blogging community, what do you think is going to be the biggest male trend this year?

Answer:

In terms of grooming, I think 'grubby but clean' is already becoming a big trend. A number of hair brands are releasing hair products that give the appearance of post-washed or fresh from the beach hair. Also guys are being a lot more adventurous than ever with hair colour and getting involved with the hair pastel movement!

Question:

Do you think it's important to follow an extensive grooming routine? And why?

Answer:

I think it is more important to understand your skin and its requirements. For me, I know my face can't go a day without being washed ​(espeically living in a city such as London), eye cream is almost routine for me as it's second nature to dab on as an anti-ageing preventative. And moisturiser, I have to wear if I want to avoid tightness.

Question:

What are your grooming essentials?

Answer:

Lab Series Skincare For Men Pro LS All-In-One Face Hydrating Gel

Anthony Glycolic Facial Cleanser

Question:

What do you think men should be more aware of when it comes to grooming?

Answer:

I think as men, we sometimes forget about the neck area and put all the attention on the face. The neck is one of the first signs of ageing, so it's important to keep clean, exfoliated and moisturised. If you're using a face mask too, make sure the neck area isn't avoided.

Question:

If you could pass on one piece of advice to men, what would it be?

Answer:

Don't rush your grooming routine in the morning! Wake up an extra five minutes and ensure you're happy with your final hair look, massaged in you moisturiser well and selected the perfect fragrance for the day ahead.
If you want to discover more from Ed, make sure you check out his blog by clicking here.