Anthony Sosnick is the man behind the globally successful, Anthony Skincare. Since being founded in 2000, Anthony Skincare quickly became a first point of call for many men (and women) looking to up their skincare routine. Being one of our favourite brands here at Mankind, we couldn't wait to dig deeper in to the brand history and learn more about the man behind the brand himself.
Anthony skincare was developed when Anthony (also known amongst friends at Tony) struggled to find a skincare brand that met his grooming needs. This encouraged him to create his own skincare brand. Men don't want or need an overcomplicated regime, which is why Anthony Skincare is so great.
We managed to grab a bit of time with man himself, to gain a further insight in to the brand, and to ask him a couple of questions. We not only found out more about the brand itself, but also managed to get some top skincare tips along the way.
---
Question:

Tell us more about Anthony. How it all began and what it stands for as a brand.

Answer:

I was a frustrated consumer. Like most guys, I was keen on taking good care of myself inside and out, eating right, exercising. I was looking for high-quality, natural-based men's skin care line but couldn't find anything that I was satisfied with. So I started doing some research and realized very quickly there was an untapped market for these kinds of products. Given my love and passion for this business it was a logical step for me to make a move and start Anthony. Anthony is a brand that does not compromise with quality of its products or formulations. Anthony uses good for you ingredients.

Question:

Describe Anthony in 3 words.

Answer:

Innovative, solution-oriented, straightforward

Question:

What's your personal background and how did it help to build the brand identity as it stands today?

Answer:

I grew up in the commercial real estate business – building office buildings and retail centers. There are a lot of things in my previous business career that I have applied to this business but what's been more formative are the values that I was raised with. My parents instilled a great sense of pride in doing good, great work – a good work ethic and doing things with integrity. Anyone that uses Anthony skincare knows that the products are very well-made and the integrity of the brand is bar none.

I also grew up in the art world and entertainment business, so hopefully that's reflected in the Anthony DNA.

Question:

What skincare routine do you follow on a daily basis?

Answer:

I always cleanse with a glycolic facial cleanser, tone and use our shave cream or shave gel. I feel it's important to use anti-aging products as I get older. I've been using the HP eye cream.

Question:

Do you face any challenges with your skin? And if so, what do you do to combat it?

Answer:

I tend to be a bit oily and I'm prone to blackheads on my nose at times. I find that using the glycolic facial cleanser and the facial scrub consistently makes a big difference. From time to time I will use our deep pore cleansing clay.

In the past I experienced shaving irritation. Our thick rich dense shave cream makes a huge difference and allows the blade to cut my beard hairs without irritating my skin.

Question:

What 3 tips would you give to someone who is looking to start a skincare routine, or to upgrade their current one?

Answer:

Always use an appropriate facial cleanser as everything else follows a clean face.
Always shave in or just after the shower as the heat from the steam can soften your beard hairs and help to avoid ingrown hairs and razor burn.
Always moisturize to seal, hydrate and nourish the skin.

Question:

We know that charity work is very close to your heart. What advice would you give to someone who is looking to support charitable causes?

Answer:

Be curious, find something that's close to your heart.  Start by doing some research and get involved first hand.

You can always change it up but if you don't explore you are never going to find something that feels right to you. And the best part about giving is what you get back in return.

Question:

What is your favourite product from the Anthony Skincare range and why?

Answer:

That's really hard to say… I love so many of our products but the one product that I can't live without is our invigorating rush hair and body wash. I use it every day to wash and condition my hair and to cleanse my body. It smells amazing and it's just a really great overall body wash.

Question:

A lot of women use Anthony – What do you find is the most popular in the range that is borrowed by women?

Answer:

This is very exciting because when I created Anthony I had hoped that women would also enjoy the benefits of our products. We find that the algae facial cleanser and our high performance products, our anti-aging line, tend to do very well with women. Having said that, just about everything we make women can use. We've developed the line to be female friendly.

Question:

Makeup for men is a big trend at the minute. Are there any plans to extend the Anthony Logistics line to include makeup for men?

Answer:

At this time, we don't see Anthony going in this direction. We've talked about introducing a few products that may fall into this category but we don't have any firm plans. That said, we do have several exciting products lined up for 2017.
It's great to see a brand that is really passionate about their customers. You can be assured that anything you try from Anthony Skincare has been created with care and passion.
If you're wondering where to begin with Anthony Skincare, check out our blog: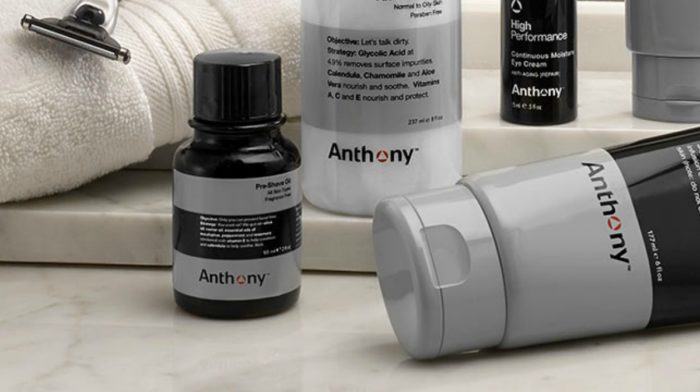 Here at Mankind, we're a fan of a simple skincare regime. We know some routines require several steps, and take in excess of 30 minutes from start to finish. Luckily, with the right products, steps can be combined together and you can get equally great skin, with less effort and minimal time. Anthony Skincare is a premium skincare brand, that fits perfectly into a skincare routine.
Check out their full range on Mankind by clicking here. These are some of our favourites: