For this post, we're teaming up with Coggles, who spent last weekend getting the inside scoop on trends for Spring/Summer 2020 at London Fashion Week Men's. They've compiled a rundown of what to look out for in terms of style, while we've been tasked with identifying the key grooming trends. From slicked-back hair to the return of the moustache, read more about the looks to watch out for.
London Fashion Week Men's SS20: Grooming Trends
Slicked Back Hair
Slicked back hairstyles – specifically mid-length slicked back hairstyles, a definite upgrade on the now ubiquitous Peaky Blinders variant – showed up everywhere in SS20 shows this year. It's a versatile and distinguished look that goes with plenty of styles.
Keep it tight and neat (read: go heavy on the product and become best friends with your comb) for a Golden-Era Hollywood feel, build body with a mousse or volumising tonic for a more relaxed take on the style, or use a gel for a version on the grunge/punk end of the spectrum.
The downside: you'll have to part ways with your short-back-and-sides, we're afraid. Grow out the back and sides of your hair so the contrast in length with the top is reduced. This should only take a couple of months, however, so you're in plenty of time for next spring.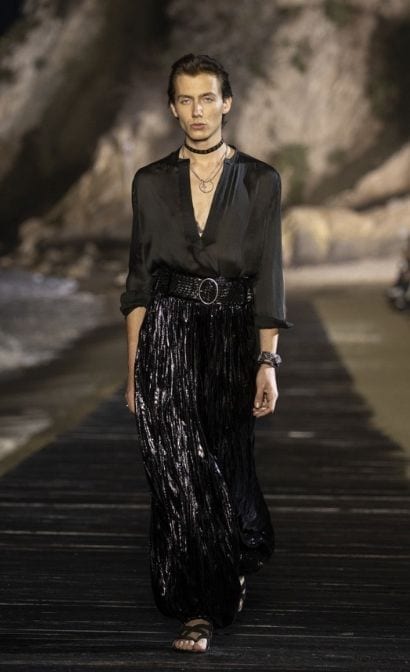 Saint Lauren
The moustache is having a moment
They're not for everyone, but if you're brave enough and want to stand out, a moustache is a great way to go about it. If you've got a square or diamond-shaped face and an angular jaw you might want to consider giving one a go.
Dyed, spiked & unisex hair – punk at the forefront
Collections from John Lawrence Sullivan and Liam Hodges, among others, placed punk hairstyles front and centre. Androgynous cuts, faux-amateur dye-jobs, and big, ambitious spikes (the more dishevelled the better) abounded.
We advise that you recreate this at your own peril (only you can be the judge of how it's likely to impact your employability). If you're going to go for it, we would definitely suggest you go bold however. When it comes to risky haircuts/dye-jobs, there's usually only one way back from the brink, and that's to go straight to square one with an on-trend buzzcut.
From the fringe to the centre
Loved by some and avoided by others in equal measure, the cropped fringe featured heavily at SS20 shows in London. Whether it's an anti-fashion statement, or a little too reminiscent of the bowl-cut your parents would threaten you with if you misbehaved, that's up to you to decide. In the right hands, however, we're definitely here for it.