Warmer weather calls for a change in diet. Rather than eating hearty winter meals, it's nice to opt for a lighter lunch which is quick to make whilst healthy and filling at the same time. We've put together our top 5 quick spring recipes so you can whip up some tasty dishes in less than an hour! Perfect to complement a busy lifestyle, each dish is simple to make and can be eaten hot or cold.
Grilled Halibut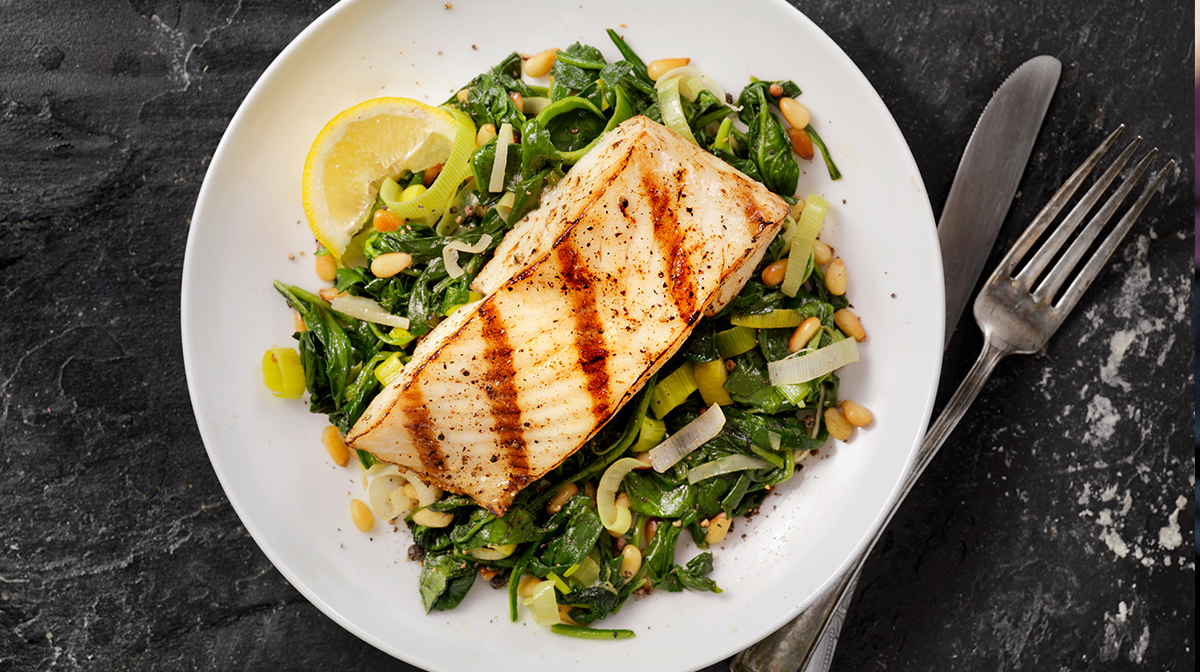 This white fish dish is packed with protein, potassium and vitamin B12, great for boosting energy and improving your immune system. Taking only 15-20 minutes to make from scratch, it's quicker than ordering takeaway for delivery! Our recipe below serves one, but you can make several fish parcels with minimal effort to cook for more.
Ingredients:
Halibut Steaks
1 cup Spinach
Chopped Leeks
Handful of Pine Nuts
15g Butter per Steak
Pinch of Salt and Pepper
Method:
First of all, take a rectangle of foil and fold the edges to create a bowl, leaving enough excess to completely cover the fish on top. Next, rub 15g of butter into each halibut steak on both sides and place into the foil. Sprinkle a pinch of salt and pepper on top, add some pine nuts and wrap into a parcel. Place the fish parcel onto the grill on a medium-high heat until cooked. The cooking time depends on the size of the halibut steak, with a 1 inch thick fillet taking around 10 minutes. When cooked, place the contents of the parcel onto a bed of spinach, chopped leeks and the remainder of pine nuts.
Cajun Chicken Pasta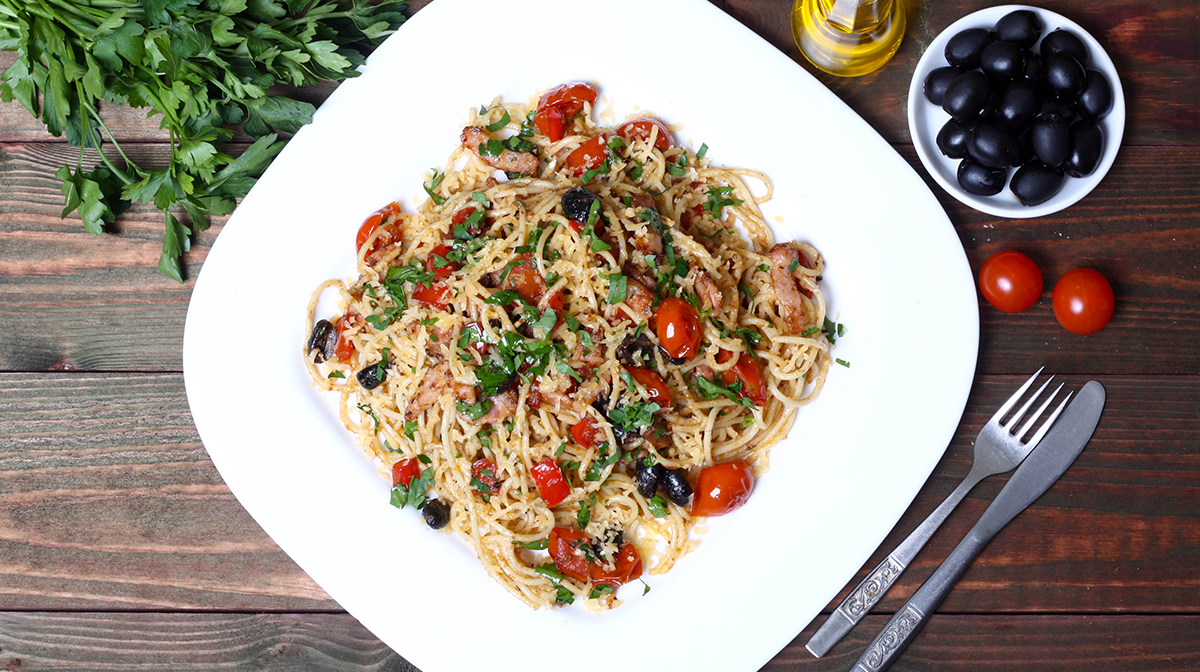 Taking around half an hour to make, this Cajun chicken pasta is perfect for those who crave strong flavours. Serving 6, this is a quick and easy meal to make for friends or family or even to separate into portions to take to work for lunch.
Ingredients:
230g Pasta
1tbsp Olive Oil
2 slices Bacon
1 Large Chopped Onion
4tsp Cajun Seasoning
1/2tsp pepper
1tbsp Plain Flour
1 can Crushed Tomatoes
1/3 cup Sour Cream
½ cup Chopped Green Onions
450g Chicken Breast
1 Green Bell Pepper
3 Garlic Cloves
Method:
Start by cooking the pasta for around 10 minutes until al dente and drain once done. In a casserole pot, heat up the oil then add the bacon and onion, cooking for two minutes. Meanwhile, cut the chicken into cubes, slice the pepper and crush the garlic. Once the onions have started to brown, add in the chicken, garlic, pepper and Cajun seasoning. Stir until the onion and pepper begin to soften.
Next, add the flour and stir until everything is coated. Pour in the tomatoes, including the juice, bring to a simmer and cook for around 2 minutes until the sauce is thickened. Remove from the heat, stir in the sour cream and stir into the pasta. Serve with green onions sprinkled on top.
Cauliflower Cheese Macaroni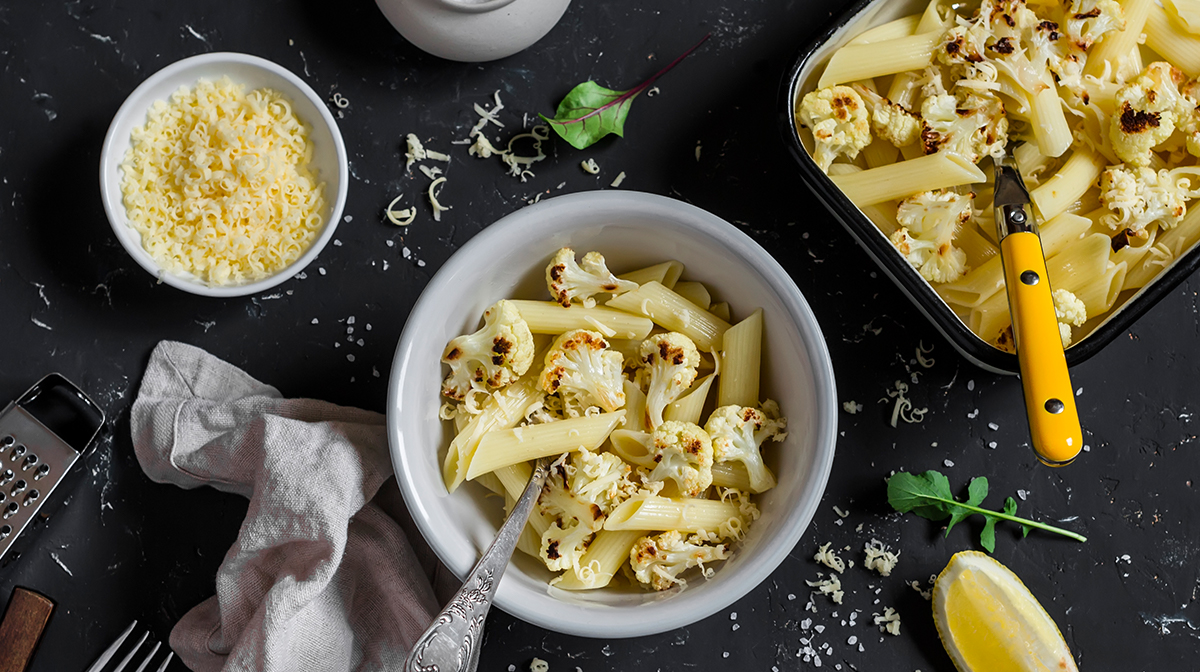 If you're a vegetarian or fancy enjoying a meal without meat, this cauliflower cheese macaroni recipe is the one for you. Taking just 25 minutes to make and serving 4 people, it's filling and delicious all in one dish.
Ingredients:
300g Macaroni
1 Cauliflower
50g Butter
50g Flour
600ml Milk
140g Cheddar Cheese
2 Garlic Cloves
50g Breadcrumbs
Handful of Thyme
Method:
Begin by cooking the pasta in salted boiling water for 4 minutes, then add the cauliflower and cook for 8 more minutes. Next, drain the pan but keep around 100ml of the water. In a separate pan, melt the butter over a low heat, stir in the flour and slowly add the milk. Keep stirring constantly until it thickens; let it bubble for 3 minutes then remove from the heat. Pour in the water from earlier along with the cheese, and then add it to a casserole dish with the pasta and cauliflower. Stir thoroughly so everything is coated and scatter the garlic, breadcrumbs and thyme over the top. Grill for 2-3 minutes and serve.
Maple-Chilli Glazed Pork Medallions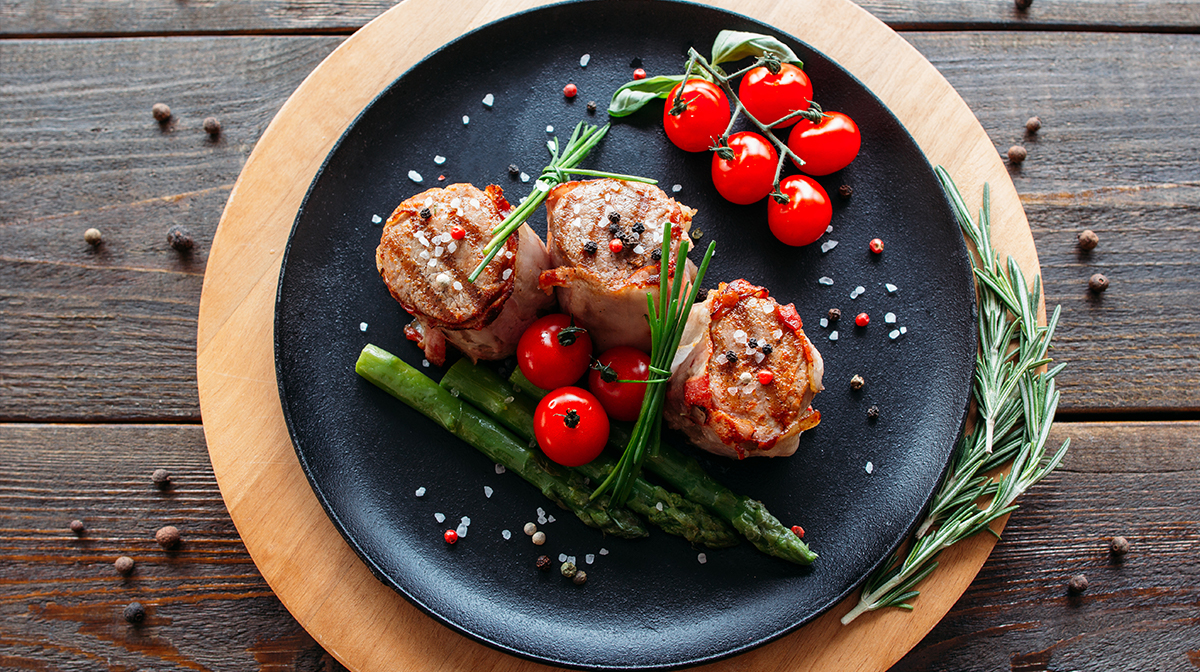 Packed with flavour, our maple-chilli glazed pork medallions take just 20 minutes to make. The amount below serves 4 people but it's simple enough to multiply or divide to suit. These are great served with asparagus, new potatoes and tomatoes.
Ingredients:
1tsp Chilli Powder
½tsp Salt
1/8tsp Ground Jalapeño Pepper
450g Pork Tenderloin
2tsp Olive Oil
¼ cup Apple Cider
1tbsp Maple Syrup
1tsp Cider Vinegar
Method:
Take a small bowl and mix together the chilli powder, salt and jalapeño pepper. Cut the pork into 1 inch thick medallions and sprinkle the chilli powder mix over both sides. In a pan, heat the oil over a medium-high heat, add the pork and cook until golden for around 2 minutes per side. Pour in the cider, syrup and vinegar, bring to the boil, and then reduce the heat to medium. Occasionally turn the pork until the sauce becomes a thick glaze for around 3 minutes then serve.
Crab Cake Burgers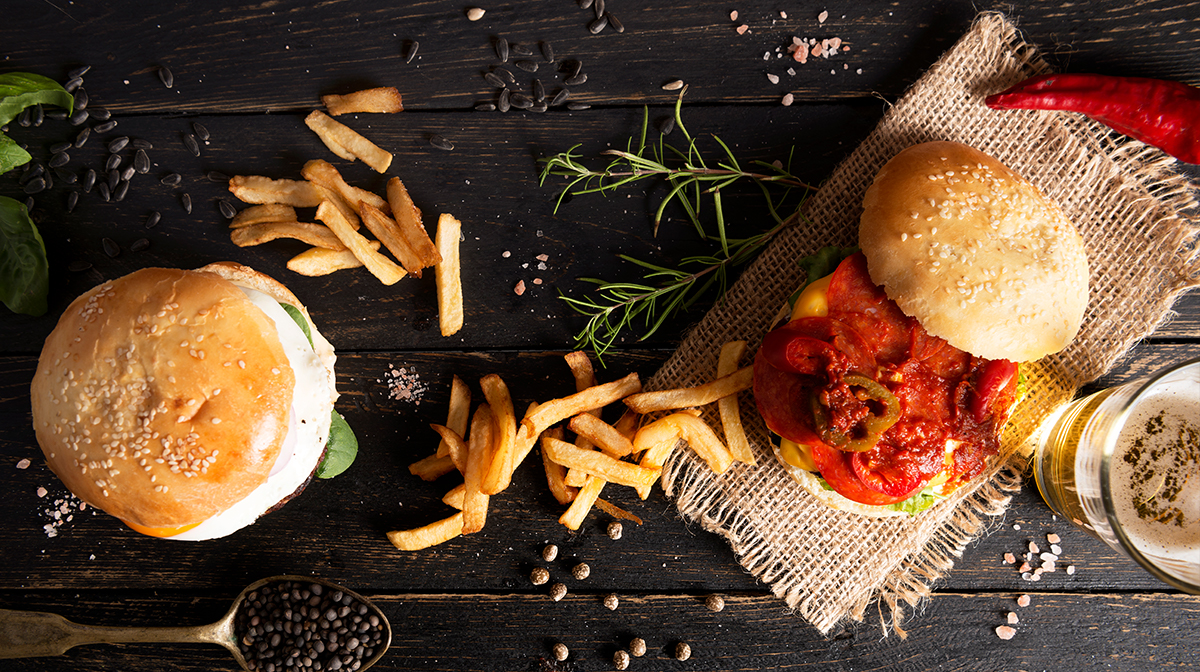 Healthier than a traditional beef burger, these crab cake burgers take just 20 minutes to make from start to finish and taste incredible. This versatile recipe can be altered to serve as many as you like and you can add whichever relish and garnish you like.
Ingredients:
450g Crabmeat
1 Egg
½ cup Breadcrumbs
¼ cup Mayonnaise
2tbsp Chives
1tbsp Dijon Mustard
1tbsp Lemon Juice
1tsp Celery Seeds
1tsp Onion Powder
1/4tsp Pepper
1tbsp Olive Oil
2tsp Unsalted Butter
Method:
Start by mixing together the crab, lightly beaten egg, breadcrumbs, mayonnaise, chives, mustard, lemon juice, celery seed, onion powder, pepper and hot sauce in a large bowl.  Split the mixture into 6 burger patties and cook until golden brown in a pan with the oil and butter. After around 4 minutes on each side, check they are cooked and place onto a burger bun. Serve with chips and any garnish you wish.
Have you tried any of our quick spring recipes? If so, show us over on Twitter: @Mankindcouk