We're always excited whenever new brands come to Mankind. We love nothing more than trying something new, and seeing how the latest products compare to our staples. A brand that has recently joined Mankind that we're loving is Closed on Monday. Primarily a hair care brand, Closed on Monday was founded by 3 friends looking to make a difference in the grooming industry. This award winning brand has 2 staple scents that occur throughout the range, making each product feel consistent and luxury.
Closed On Monday: What Should You Know?
Closed On Monday was founded by James, Karl and Sam, after a decision to combine their skills together and create products that were well made, considered and wholesome. It made sense for them to work on creating a high quality male grooming range. Sam's experience is directly from the industry, travelling the world as part of the British barber team, whilst Karl has skills in branding and design and James has the skill to make an idea real.
Why Are We Currently Loving Closed On Monday?
We're currently loving Closed On Monday for a number of reasons!
The product is high quality. As soon as you hold any products from the line, you can tell they're high quality. Each item comes in a glass jar, which helps to preserve the contents inside. The consistency of the product is spot on – and we can see why the Deluxe Pomade has won awards.
The scents are fresh, with a citrus edge. From the minute you open the jar, to when you wash the product out of your hair, it smells amazing. The scents span across the range, so you'll be sure to get a product with a smell that suits you.
The range covers your needs. There is a nice selection of products, that cater to all hair types/styles. Whether you're after a pomade, wax or a paste, Closed on Monday have got you covered. They also have a face cream and beard balm, which are both equally great products.
If you like what you hear about the Closed on Monday range so far, but are burning to ask even more questions about the range and hair advice, join in the Mankind Twitter Chat! Taking place on 24.10.16 at 8-9pm GMT, you can ask the experts all your hair and beard questions directly. There'll even be a prize for the best questions…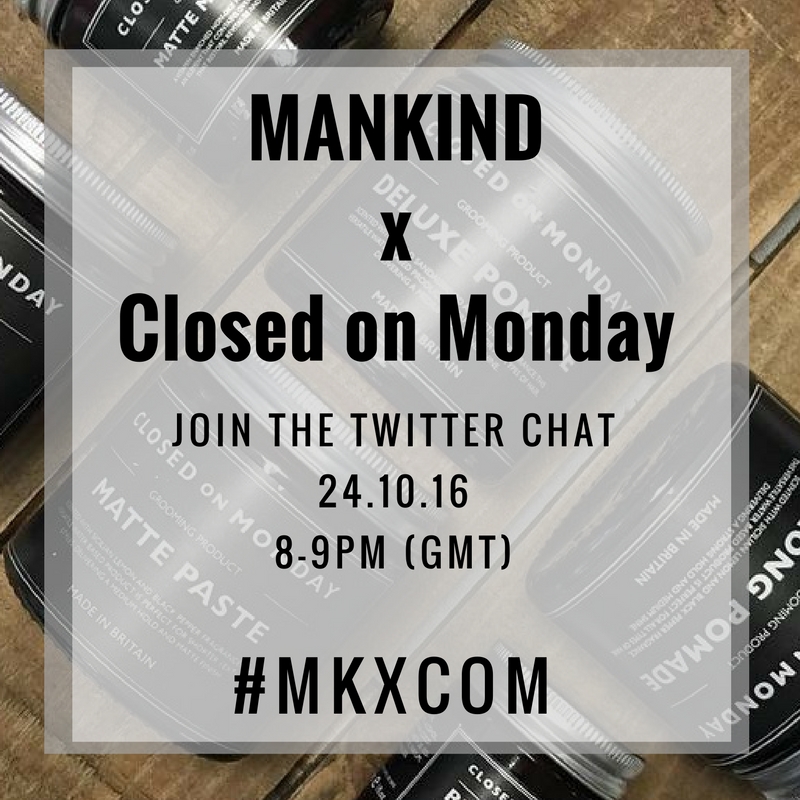 Here are some of our favourites from the line:
Buy now

with Mankind

Perfect for adding texture and definition to your style, the Closed on Monday Matte Paste is great for short styles. Delivering a medium hold, with a soft matte finish, this versatile product will help to lift your hair, without leaving shine or greasy residue. The scent of Sicilian Lemon and Black Pepper also leaves a fresh and clean fragrance in your hair.

Buy now with free delivery

Buy now

with Mankind

The award winning Closed on Monday Deluxe Pomade is a water based product that provides all-day hold without the stiffness of a gel. With a subtle scent of Sandalwood and Vetiver, this versatile pomade works to deliver a medium hold with medium shine. It looks and feels like a light gel-wax, making it the perfect product to create a classic slicked back look.

Buy now with free delivery

Buy now

with Mankind

The Closed on Monday Matte Moisturiser, helps to re-awaken and uplift dull, fatigued skin. An anti-shine moisturiser, packed with over 190 active bio ingredients, this moisturiser will invigorate your skin and remove any dryness. Enriched with Japanese Sea-buckthorn extract, this face cream keeps you skin feeling smooth and soft, without adding shine.

Buy now with free delivery