Neil Thornton from What Neil Did is one of our favourite bloggers, and rightly so. You may recognise him from being part of our skincare tutorial videos, where Neil helps guide you on the best way to apply your grooming products.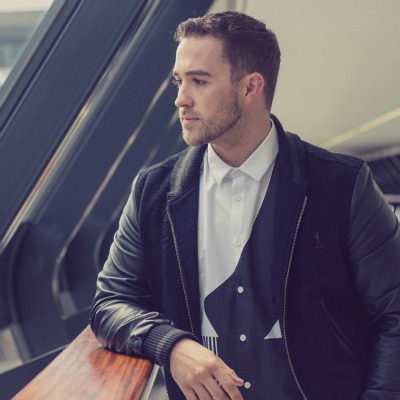 Neil started his blog around 5 years ago, providing men with advise on grooming, lifestyle, fashion and travel. Since Neil works in the industry, you can be pretty confident he knows what he's talking about. With an honest flair, his content will give you all the answers you need in an understandable way.
Not only does Neil produce great written content, we'd urge you to check out his strong photography and YouTube videos. You won't be disappointed. We've caught up with Neil to get his insights into the industry.
Question:

Let's start by telling us a bit more about you…

Answer:

Hmm, OK. Well, the basics: I'm Neil, I'm 29 and I live in London and work as a Content Editor in the luxury fashion industry. I started my blog about 5 years ago purely for the fun of writing and talking about things I cared about. I never thought it would become more than that.

Question:

The male grooming industry is growing incredibly quick. What do you think is causing this?

Answer:

It's the progression of what it means to be a 'man'. Perceptions of masculinity have shifted and men are now expected to groom themselves properly and take pride in their appearance, indulging in routines formerly considered feminine. As the interest has increased, the brand and product offering has too. Men want to look good and they want to feel good. They realise both of those things are linked.

Question:

What men do you look up to within the grooming industry? And why?

Answer:

Depends on what you mean. If we're talking well-groomed men, I don't think there are any in particular. I see guys with enviable beards (I can never get mine past minimal growth as it's quite wiry), or quiffs a la Clark Kent. I'd love to have these, but I can't. So I don't get too caught up. I like to work with what I have.

If we talking about others working within the industry, I like a lot of different people. One thing that sets grooming writers/bloggers etc. apart from fashion is that they are intrinsically more knowledgeable about the subject matter. Guys like Thom from Manface, Lee from Grooming Guru and Robyn from Man for Himself know their stuff. It's not just about a nice shot.

Question:

What do you think men should be more aware of when it comes to grooming?

Answer:

That one size does not fit all! Skincare that works for one, may not work for you. Same with hair products, too. You need to try different things out. And you need to know what you're working with. Is your skin oily? Dry? Combination? Is your hair thick? Thin? Frizzy? Ask your barbers, ask experts at beauty counters. Different brands offer different free skin analysis. Try a couple and look for similarities.

Question:

From what you've seen in the blogging community, what do you think is going to be the biggest male trend this year?

Answer:

There's a huge push to subscription-based product offerings. Brands want to weave themselves naturally into a man's life. Having shaving razors turn up on your doorstep every three weeks takes the stress out of remembering. Online multi-brand sites are also offering reminders about when to stock up and auto-replenish options.

Question:

Do you think it's important to follow an extensive grooming routine? And why?

Answer:

Not at all. Like I said, one size doesn't fit all. And not everyone needs a load of help with their skin. You know, they say 'Cleanse, Tone, Moisturise' – I never tone. It does nothing for me. So I cleanse and moisturise and exfoliate every 2-3 days.

Question:

What are your grooming essentials?

Answer:

A light daily moisturiser – I use Elemis' Daily Moisture Boost, well, daily! It's super light and fast absorbing. If I want to kick it up a gear, I add in a serum like Aesop's Parsley Seed Anti-Oxidant Serum.

A good scrub: I'm currently obsessed with Triumph & Disaster's Rock&Roll Suicide face scrub. Well, obsessed with all but the product name. It's a rich scrub which I actually apply like a mask at first (after cleansing). Let it try then scrub in circular motions to remove. Your skin will feel incredible after, trust me. If, like me, you're also a fan of more chemical-based products, look for ones with Glycolic and Salicylic acids in them. Like Anthony's Glycolic Facial Cleanser – this cleanser is also non-abrasive so you can use it more often.

A good eye cream: I love Radical Skincare's Eye Revive Cream. It's packed with potent antioxidants that combat the signs of ageing as well as puffiness and discolouration. It is pricey, but it's worth it and a little goes a long way. If I want to make it last, I always use it at night, and I find a complementing low-price alternative for the day like Clinique For Men's Anti-Fatigue Eye Gel.

Question:

What's your main skin concern and what do you do to combat it?

Answer:

My under-eye area is always the first to give the game away; if I'm tired, hung over or just another year older. So I always try and maintain a good skincare routine here. The area under your eyes is a lot thinner than the rest of your face, so it requires dedicated treatment. Your basic moisturiser will work to an extent, but it not designed to deal with the puffiness and dark circles. During the day I go for eye creams with natural astringent properties like witch hazel, cucumber and citrus. These ingredients help reduce puffiness and tighten the skin. I then use a thicker, night-based treatment to tackle issues head one. Though unfortunately, the best cures are lots of water and more importantly, lots of sleep!

Question:

If you could pass on one piece of advice to men, what would it be?

Answer:

Prevention is better than cure. You may think your skin is in tip top condition now, but once it starts going downhill it's harder to turn back. Think moisturisers, and think sunscreen. I wear both every day. Regardless of where I am.
We're pretty confident you'll love all of Neil's content.
Head over to his blog and check it out by clicking here.
You can also follow him on Instagram (@whatneildid), and Twitter (@whatneildid).