Daniel Marin is a London based blogger, that has recently featured in our latest Day In The Life campaign. We wanted to work with Daniel because of his style, and passion for skincare. Our videos with him will give you a good understand into what it takes to have an active lifestyle.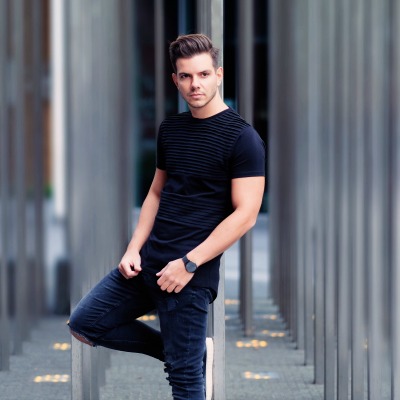 Daniel is an account manager originally from Brazil, now living in London. If you're looking for someone who is knowledgeable in grooming, lifestyle, fashion and travel, Daniel is your man. Daniel's content is well written, and his imagery is enviable.
We're really happy to have worked with Daniel for our latest campaign, and if you haven't watched the video already, we think you should. With the video, we've aimed to give insight into how easy it is to incorporate a healthy lifestyle into your daily routine.
Question:

Let's start by telling us a bit more about you…

Answer:

Hello, I'm Daniel. I'm a full-time Account Manager working in one of the most dynamic media agencies in London. I'm also a part-time Lifestyle, Fashion and Travel blogger. My family is originally from Italy but I was born and raised in Brazil. I've been living in the UK for more than a decade now.

Question:

The male grooming industry is growing incredibly quick. What do you think is causing this?

Answer:

I think it's a combination of factors. Guys take fitness, well-being and their overall appearance far more seriously than in the past. It started with the metrosexual trend about two decades ago. I think social media, marketing and advertising also creates social pressure on guys to look good – and this can be positive or negative. The industry has also grown in response to a discerning male market, with many new products, services and technologies available for grooming.

Question:

What men do you look up to within the grooming industry? And why?

Answer:

I follow several male bloggers, which keeps me up to date on the latest trends in male fashion and grooming. Events like London Fashion Week also showcase latest trends in style and grooming. Celebrities in the music, film, sport and pop culture industries are trend-setters too, so I keep my eye on them. Can you guess who?

Question:

What do you think men should be more aware of when it comes to grooming?

Answer:

Contrary to what most guys might think, a daily grooming routine doesn't take much of an effort. I've recommended some of my favourite products below. Get into a morning routine and stick to it. The golden rule is to never leave the house in the morning without applying moisturiser. And a good haircut – from simply trimming your beard or asking your stylist to fade and clean up around the ears (or a radical new cut or colour) – can make you look and feel like a million dollars.

Question:

From what you've seen in the blogging community, what do you think is going to be the biggest male trend this year?

Answer:

From the blogs I've read, one of the trends that stands out is the increasing popularity among men of face masks. There are now a range of face masks on the market at various price points. They're a great way of giving your skin an instant hydro boost.

Question:

Do you think it's important to follow an extensive grooming routine? And why?

Answer:

No, as I said earlier, you can have a fairly simple and effective grooming routine. Nowadays there are so many options within various price ranges that you don't need to break the bank to look good.

Question:

What are your grooming essentials? (Please select 3 from Mankind?)

Answer:

My new top 3 essentials are from Elemis range.

Elemis TFM Deep Cleanse Facial Wash, to rejuvenate and awaken skin, whilst removing excess oil, dirt and impurities.

Elemis TFM Daily Moisture Boost, the lightweight moisturiser designed to immediately recharge and hydrate without overloading the skin whilst defending it from harsh external pollutants.

Elemis TFM Time Defence Eye Reviver, it reduces those wrinkles and fine lines around the eyes that give the appearance of premature ageing

Question:

What do you think men should be more aware of when it comes to grooming?

Answer:

Be sure to do sufficient research to determine which brands, products and services suit your skin type and lifestyle.

Question:

If you could pass on one piece of advice to men, what would it be?

Answer:

Be confident in your own skin. The key for happiness is accepting yourself the way that you are. The moment you understand that, confidence will radiate from within.